Today's letter to the President about what life is like under the military's "Don't Ask, Don't Tell" law comes from US Army Sergeant Darren Manzella, a who served two tours in the middle east in Operation Iraqi Freedom. The second tour he served as an openly honestly gay man, after outing himself to his superiors, who told him to "drive on" with his work. He was later interviewed by Leslie Stahl, of CBS's 60 Minutes, about relaxing DADT standards in the military during war time. That interview led to his discharge. He has some pointed questions for the Commander-in-Chief:
Why am I not able to stand in the place of my battle buddy who has left his wife three times to deploy and missed the birth of his new born child? Why are exceptions being made to enlist individuals with subpar mental and physical standards? And why are serious convicted felons granted waivers to serve while I was pushed out the door?
The letter in its entirety, and a big update on the state of repeal as seen by prime advocates after the fold.
Today's Letter: "Mr. President, why should we wait another year or another decade to do what is right?"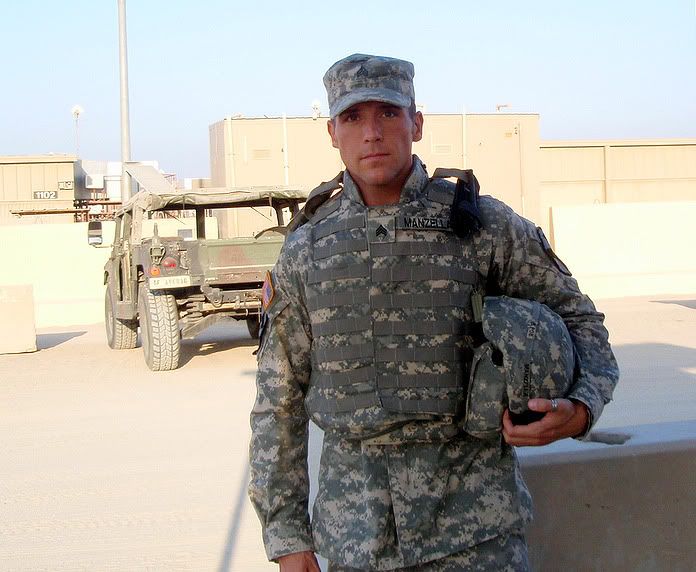 May 19, 2010

President Barack H. Obama
The White House
1600 Pennsylvania Avenue Northwest
Washington, DC 20500

Dear Mr. President,

It was spring 2004. I had just arrived in Baghdad. We'd been there all but four days. Then it happened. It was an ambush. It ended with my good friend shot dead. I was overwhelmed by emotions of anger and sadness, but also confusion.

At that moment, my perspective on life changed; I wondered, what if I had been killed in action and had never come to terms with who I truly was and, even worse, never had the chance to share it with my loved ones? There comes a point when acceptance is your only salvation—my return from Iraq was my moment.

I served two tours of duty in the Middle East in support of Operation Iraqi Freedom as a Soldier in the United States Army. I was promoted to sergeant, was a team leader of a medical squad, and conducted over 100 12-hour patrols in the streets of Baghdad, treating wounds and evacuating casualties of sniper fire and roadside bombs. I applied for Officer Candidate School under the recommendation of two generals in my chain of command. But, today, instead of protecting my fellow Americans, I sit working in a university development office because I was discharged under "Don't Ask, Don't Tell" (DADT).

When I came out, the first people I told were comrades, with whom I had just spent 12 months in Baghdad. To be honest, I was scared of their rejection more than the mortar and rocket attacks, ambushes, or roadside explosives. But, they showed immense understanding of what I had been going through and offered unconditional support. The response from my brothers and sisters in arms proved that the military is a family—no matter if you are man, woman, black, white, transgender, gay, or straight. What truly matters is whether you can trust the person next to you. And how can trust be built around a lie?

One day, I received an email from a Soldier I had never met; it said I was being investigated under DADT and that I would be stripped of my rank and pay and eventually discharged. I tried to ignore it, but the emails continued and became more derogatory. Soon, I began receiving similar phone calls at work.

Unsure of who to trust, on edge every second, and losing more and more sleep each night, I approached my supervisor. I was a Soldier who lived by all seven of the Army values, including honesty. I refused to have someone else end my career. He offered a sympathetic ear before reporting me to the legal department.

After an investigation into my statements and the harassment, I was told I was an exceptional Soldier and to "drive on" with my work. It was a great a relief to break the silence. My colleagues suddenly understood why I had always been so detached and began asking me to join them in activities outside of work.

Later that year my division deployed again and I served the entirety of the deployment as an openly gay Soldier. I no longer had to lie if someone asked if I were married or had a girlfriend, I didn't have to write my emails in "code." I no longer feared being "outed." I finally was able to be honest.

After arriving in Iraq for the second deployment I was promoted once again and served my division as the medical liaison officer in Kuwait. It was there that I participated in an interview with Leslie Stahl for 60 Minutes with the focus being on a out gay Soldier working in a combat zone.

I gave voice to the tens of thousands of men and women who serve everyday under the fear of DADT. The interview also ended my career. I was honorably discharged on June 10, 2008.

While I sit in a safe and comfortable civilian office, former comrades and friends continue to serve, leaving their families for a third, fourth, or even fifth deployment. Why am I not able to stand in the place of my battle buddy who has left his wife three times to deploy and missed the birth of his new born child? Why are exceptions being made to enlist individuals with subpar mental and physical standards? And why are serious convicted felons granted waivers to serve while I was pushed out the door?

Mr. President, last year you restored my hope that this discriminatory law will be repealed, but I must admit that my spirit has been shaken because DADT still exists. Every day, we lose dedicated and capable service members while other Marines, Soldiers, Sailors, Airmen and Coastguardsmen sacrifice more than their share. My experience demonstrates what matters most is competence, trust and ability. Why then should we wait another year or another decade to do what is right?

Sincerely,

Former Sergeant Darren Manzella
United States Army
Darren's interview with 60 Minutes' Leslie Stahl is below
For the record, I object to the oft-repeated statement as fact that the gays in the military "almost derailed [the Clinton] Presidency." I think the honest assessment is the knives were out for Clinton from day one, and continued through his Presidency, the issue the GOP was belly-aching about was, largely immaterial. It could have been a "Puppies for all" program that "almost derailed his Presidency."
But, it's an excellent segment regardless, making the point of the silliness of throwing out medics, linguists and others who were known to their platoons to be gay and respected and valued among their fellow troops, who didn't care. It's very sad this piece aired two and half years ago.
: : : : : : : : : : : : : : : : : : : : : : : : : : : : : : : : : : : : : : : : : : : : : : : : : : : : : : : : : : : : : : : : : : : : : : : :
REPEAL NEWS UPDATE: State of Repeal Conference Call
Yesterday, I had the opportunity to join a conference call organized by Servicemembers Legal Defense Network. SLDN Executive Director Aubrey Sarvis provided background and took questions from bloggers involved with this media campaign and the efforts to activate and educate people on this issue.
Joe Sudbay from Americablog was also on the call and provided a meticulous summary here. I urge everyone to read it in it's entirety but will provide my own simplified summary below.
The strategy for repeal that is most likely to succeed is to attach it as an amendment to the forthcoming Military Defense Authorization spending bills currently in markup in both houses. (This is the same method the law was enacted.) If attached this month, it will reach final vote in October, and with the legislation's delayed implemenation language included (currently 180 days), actual policy change will not reach troop level until April or May of 2011.
The repeal bill is expected to be offered as an amendment on the floor of the House on May 28 or 29. Speaker Pelosi has said she "I have no intention of losing." Lead sponsor Patrick Murphy (D-PA) and other insiders are reasonably confident the votes will be there to successfully attach repeal. This strategy is purposefully to avoid the hostile House Armed Services Committee, where it is unlikely to pass. Sarvis remarked they were glad to see that Obama's Secretary of Defense Robert Gates' letter urging Congress to not act did not have as chilling effect on House support as they had expected.
This is not as true in the Senate where the Armed Services Committee (SASC) is strategically the least treacherous path to getting a bill out of the Senate. This will likely happen next Thursday, May 27. Fifteen votes are needed to ensure attachment. There are 16 Democrats and 12 Republicans on the committee. The vote has been reported as being within one or two votes. Gates' opposition however has cemented several key members such as Jim Webb (D-VA), Scott Brown (R-MA), into a position of: "I'm doing nothing until Defense Sec Gates tells me it's OK to move forward." If only we knew a progressive-minded Veteran that had some influence with Jim Webb that could take a shot at bringing Webb around? I guess there's no one around like that.
Anyway, I had the opportunity to ask several questions. One that's been eating at me is SASC Chairman Carl Levin (D-MI) is on record saying they'll take the SASC vote "if the votes were there." I asked Sarvis if he knew if Sen Levin would call the vote if he did not, in fact, know if the votes were there, or even if he knew a vote would fail? Sarvis replied that on some bills a chairman, on any committee, may not know with certainty where the votes really lie until actually calling the vote. I said I agreed, but my question was, did Chairman Levin? He said he believed he did.
Sarvis praised Levin's commitment and tireless work on the issue. From Americablog:
Sarvis said that Chairman Levin is "a real hero on the Senate side. Without his tenacity and determination, we wouldn't be alive there." And, he noted that Levin is "determined to get this done...this year." Levin will be lobbying one-on-one with every member on the Democratic side who is not a co-sponsor and even some Republicans.
So we have pretty firm dates: May 27 and May 28 or 29. That means, it's the bottom of the ninth and swinging for the fences is really the only option that can win this.
The feeling I walked away with was good news/bad news for repeal in 2010.
The good news is we're not dead in the water, and by all rights, the effort really should be.
Especially when one considers the LGBT community and repeal advocates have recieved, thus far, meager support from usual mainstream advocates of progressive issues, virtually no attention in the mainstream press and only opposition from the Obama administration.
Of course the bad news is we are definitely NOT there yet. And for us to get there, a game change is probably needed.
What a Game Change Might Look Like
1. Get the Obama administration's explicit endorsement to attach repeal to the Military Defense Authorization spending bill. Efforts are said to be underway by Chairman Levin, Senator Lieberman and others to bring Obama's Secretary of Defense Robert Gates back to the table and see if he might be convinced to reverse his position of opposition. And efforts are underway to convince Sec Gates' boss to break his silence and disengagement and pitch in with the effort.
Getting Gates and President Obama on board would certainly be a game change of epic proportions. But it is appearing to be very, very unlikely.
2. Send in the progressive cavalry. A widespread "call to arms" by leaders of straight progressives to aggressively lobby the Senate Armed Services Committee would certainly have a effect. If Markos Moulitsas (Daily Kos), Jane Hamsher (Firedoglake) Wes Boyd (MoveOn) and other leaders that have a history mobilizing large groups of straight progressives, would echo Howard Dean and Democracy for America's call to action, and lend their voices to the chorus saying "repeal can't wait!" the day could surely be saved. It certainly might behoove them to keep the LGBT community involved with Democrats, because, well, the relationship's looking a little rocky right now. See: "Dear Democrats, we need to talk."
3. The story actually gets into the news. If the mainstream media reported on the importance of the events of the next week it might ignite an appropriate sense of urgency. There's real reason to believe failure to act this month could delay repeal until 2013 or later. I don't believe the American people would really support that.
Absent such game changes, we'll just keep on keeping on.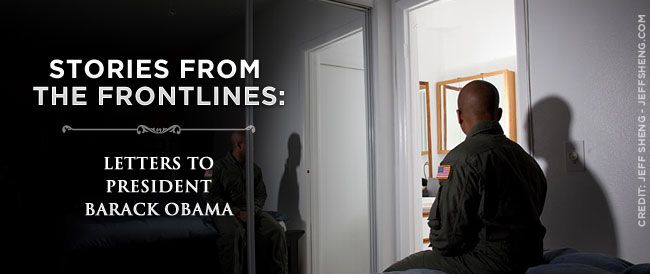 To raise awareness to the need for Presidential leadership, DADT repeal activists have launched "Stories from the Frontlines:Letters to President Barack Obama."The new media campaign launched in partnership with Servicemember's Legal Defense Network,is intended to underscore the urgent need for congressional action and presidential leadership at this critical point in the fight to repeal "Don't Ask, Don't Tell" (DADT).
Participating blogs: 365 Gay, The Advocate, AfterElton, AmericaBlog , Ameriqueer, AKAWilliam, The Bilerico Project, BoxTurtleBulletin, BrandFabulousness, The Daily Kos, David In Manhattan, David Mixner, Fired Up Missouri, GoodAsYou, HRCBackStory, Kenneth In The 212, Lez Get Real, LGBTPOV, Michael in Norfolk, Mike Gets Real, Mile High Gay Guy, Open Left, Page One Q, Pam's House Blend, RepealNow, SayenCroWolf, Seattle PI Stepforward, Signorile's The Gist, The New Civil Rights Movement, The Queer Times, Towleroad, We Give A Damn.
: : : : : : : : : : : : : : : : : : : : : : : : : : : : : : : : : : : : : : : : : : : : : : : : : : : : : : : : : : : : : : : : : : : : : : : :
• State by State Daily Kos Effort to Shore Up the Votes!
JPMassar, who has been my unsung ally in these efforts providing valuable information and support, has updated his 11 Crucial Senators for repeal diary. In particular, we need the help of Hoosiers, West Virginians, Virginians, First Staters, Bay Staters, Cornhuskers and South Carolinians, so please check it out. Please make the calls, and leave a comment telling us what the staff is saying. Slight changes in the tone and talking points can indicate much about where a Senator stands. Yesterday I noted with a little humor that Bill Nelson is now claiming he's always been a strong supporter of repeal in 2010. Which is news to many who've followed the story closely. This diary contains all relevant contact information.
: : : : : : : : : : : : : : : : : : : : : : : : : : : : : : : : : : : : : : : : : : : : : : : : : : : : : : : : : : : : : : : : : : : : : : : :
CALL TO ACTION! (Pick one or all.)
Fate of repeal will be decided in the month of May. As time grows short, repeal advocates have multiple strategies are in place. One thing they all share is a need to hear from the public the time is now. Now is the time for LGBT allies to get off the fence and call for equality for their fellow Americans.
New Call to Action: Howard Dean and Democracy for America have joined the effort to End Don't Ask, Don't Tell in 2010. Sign the petition here. The Courage Campaign's goal was 100,000 signatures by Monday, they are now at 70,000. Let's help them over-achieve.
• Contact the White House: The Servicemember's Legal Defnese Network has put out an action item: Not Another Year. They are asking people to call the White House and tell our Commander in Chief to call for repeal in 2010, repeal can't wait until 2011. The moment is now. They say: "Our Congressional allies are not giving up. SLDN isn't giving up. Tell President Obama not to give up either. Call the White House today. (202) 456-1414"
• Contact your Senators: Tell them to support adding repeal to the Senate Defense Spending Budget: these Senators are most key: Bill Nelson, Ben Nelson, Evan Bayh, Jim Webb, Robert Byrd and Scott Brown. But call them all. Show them there's a grassroots movement to vote now. SLDN contact tool here.
• Contact your House Representatives: Tell them to support Representative Patrick Murphy's plan to offer DADT repeal legislation as a floor amendment to the military bill. SLDN contact tool here.
• Contact Nancy Pelosi: Tell her to use her authority as Speaker of the House to bring DADT repeal up for a vote in the House. (202) 225-0100
• Contact Senate Armed Services Committee Chairmain Carl Levin (D-MI) and tell him Military Budget Attachment is the way to go. His office in Washington can be reached at: (202) 224-6221
• Become a citizen co-sponsor of repeal at Senator Udall's site.
: : : : : : : : : : : : : : : : : : : : : : : : : : : : : : : : : : : : : : : : : : : : : : : : : : : : : : : : : : : : : : : : : : : : : : : :
Talking point tip: Sens Brown, Webb and others are saying they are deferring to President Obama's Secretary of Defense Robert Gates' recommendation not to act before the Pentagon study is due Dec 1. Here is a possible response:

"I understand the need not to rush the process. But I also understand the current legislation, as proposed, already includes a 180-day delayed implementation from the time of final passage expected in October. So even if approved in committee this month, changes in actual policy would not go into effect until April 2011 or later.

I'd also remind the Senator that Congress doesn't have to take direction from the Executive Branch, it is an indepedent body, elected to express the will of the people, and we expect Congress to lead, not follow, the Pentagon on this issue. Thank you."